(03:47:51) planetkiller1225: House?
(03:47:59) planetkiller1225: i could kinda see that. you like snarky. he's snarky.
(03:48:08) scap3goat: It'd be a snark-fest
(03:48:15) planetkiller1225: plus he's a doctor. you're sort of a doctor.
(03:48:25) planetkiller1225: and he's the modern Sherlock Holmes.
(03:48:26) scap3goat: can I have another doctor?
(03:48:34) planetkiller1225: it's only American TV shows.
(03:48:37) scap3goat: funny doctor, fuzzy doctor, doctor, doctor, jack.

Which Criminal Minds Character Are You? (With Pictures)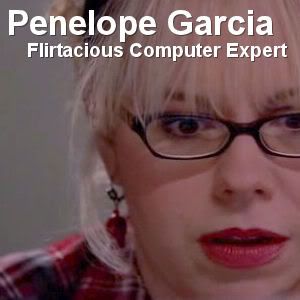 Penelope Garcia
Take this quiz!







Quizilla |
Join

| Make A Quiz | More Quizzes | Grab Code
Better in the Dark
(by
Rogue Traders
- you know, the
Voodoo Child
band) is an awesome album so far!