Wtf allowed David Tennant to chew on a Stick 430? That's not fair!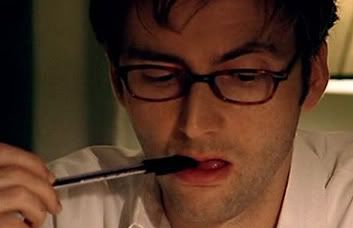 My Dad's been producing the stuff for... at least 16 years now. I grew up with them. I know several ways to use them, but your never ever allowed to use one to get staples open!
And who exactly allowed David Tennant to chew on one?
~~~~~
Okay, I'm not hung-over. My muscles are sore b/c of 3 hours of dancing, but other than that I'm fine.
Wanted to say something else... mhh...
Oh, yes! I already told Jules, but I'll tell you as well:
I discovered we've got a (sort of) Captain Jack in our class.
He danced with everybody. Regardless of gender and everything he just danced with anybody who'd let themselves be danced with. He and Wolfgang had some almost insinuating dances. Once even a threesome. XD
Anyway, it was slasher's paradise.
It was so great. The more drunk people got, the crazier they went. I was standing outside with Mike, who'd been asking everyone "do you stick or lick/let stick?", when Fabian, he was so drunk, so very, very drunk, came and soon after that some other guy (=Ottlo).
Fabian: "I'm not drunk."
Me: "No, you're not drunk, alright"</ sarcasm>
Fabian: "I'm so not drunk."
Ottlo: "You've been kissing me!"
Fabian: "Wasn't me, was XY"
Ottlo: "It so was you."
XD
I hope photos will be uploaded by the people who had their cameras with them. And that soon.
| | |
| --- | --- |
| | cold |